We are open to reasonable offers on most horses

We require a 25% or $500.00,

whichever is higher

, NON-REFUNDABLE deposit to hold a horse.

Horses will not be held without a deposit. No Exceptions.

Foals that have yet to be weaned can also be held with a 25% non-refundable deposit. We will not charge board for a foal that has not been weaned yet, however, once that foal has been weaned at 4-6 months of age, a non-refundable boarding fee of $250.00 will be charged per month. We will give you plenty of notice as to when the foal will be weaned so you can make arrangements, or have us make arrangements (for the fee of $15/hour)

for the foal to be transported to its new home at weaning time

.

Any horse that has had a deposit placed on it or has been paid for but has not yet been picked up by the purchaser in the time frame "Stated" will be subject to a $250.00 per month NON-REFUNDABLE boarding fee

If the buyer chooses for any reason to not go through with the sale and the horse to be purchased has been boarded on our property, all board fees and any fees associated with boarding the horse will be due upon cancelation of the sales agreement. This is to cover valuable time lost in advertising and potential sales lost.

Sold will be marked on all horses/dogs that have been paid for in full. "Pending" will be placed when there is a deposit actually made on the horse/dog.

Please Note* Prices are subject to change without notice, due to the

horses being on a regular training schedule.
We are flexible and easy to work with on:
Payment Plans
Needing time for making arrangements and/or Hauling/Exporting
We can Help you!
" WE ARE DOWNSIZING OUR QUALITY BREEDING STOCK SO THAT WE MAY CONTINUE TO GIVE YOU HIGH QUALITY HORSES, THAT HAVE BEEN WELL HANDLED, WITH GOOD GROUND MANNERS!"
Please Note: All extra costs such as coggins, international health certificate, broker fees, transportation fees, etc. are NOT included in the prices listed below. These charges are at the buyers expense.
Payment Plans and Package Deals are Available!
Vet Checks are WELCOME!
_________________________________________________________________________________________
FOR SALE
For a current list of horses for sale please visit our new website:
___________________________________________________________________________________________________________________
Mares & Fillies:
Kings Galant Karissma
"Karissma"
2010 15.2hh Bay Tovero APHA mare
Exposed to APHA Stallion Heza Custom Smokeshow
for a stunning colored foal in 2015!
Karissma is another mare that we are so very sad to see on our For Sale page. She has the most gentle soul and will spend hours just standing by you sharing your company. This mare is very calm and quiet and she produced for us an absolutely stunning Bay Dun Tovero APHA colt this year with two blue eyes by our APHA stallion Heza Custom Smokeshow. We intended to keep Karissma and so we bred her back to the same stallion in hopes of getting a filly similar to the colt she had this year. Unfortunately, we must now place her up for sale. We have not confirmed that she is in foal, but the chances are that she is in foal. We offer Live Foal Guarantee in the sale of this mare, so if she happens to be open you can bring her back next year to be re-bred if you so desire. Karissma is not under saddle, but is sound and can start training at any time. Karissma is for sale to an Approved Home only.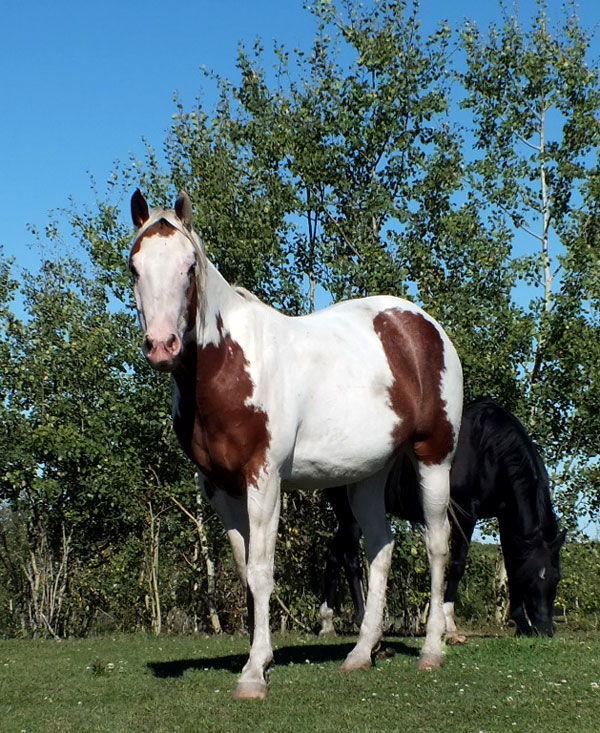 $3000.00 CAD
Negotiable to the right home
Click Here to view Karissma's Pedigree
******************************************************************************************

Zippin Thru The Arts

"Marley"
2008 15.2hh Sorrel Overo APHA Mare
For Sale Open or Bred to APHA Stallion Heza Custom Smokeshow
Also For Sale with 2014 Dun APHA colt at side!
We had planned to keep Marley for many more years to come but due to personal reasons and us revamping our breeding program Marley is now available for sale. This girl is exceptionally well bred, beautiful, and an very loving mare. Marley's sire is Zips Power Play, son of Paint me Zippo and she is also a granddaughter of Artful Move. She also has Mr Fancy Bonanza and Raise A Native in her lineage to name a couple. This girl really is Performance Quality. She is not under saddle but is completely sound and ready to start her training.
Marley was also a part of the Old's College young colt program as a yearling.
Marley and her 2014 Dun colt are for sale to an Approved Home only.
SALE PENDING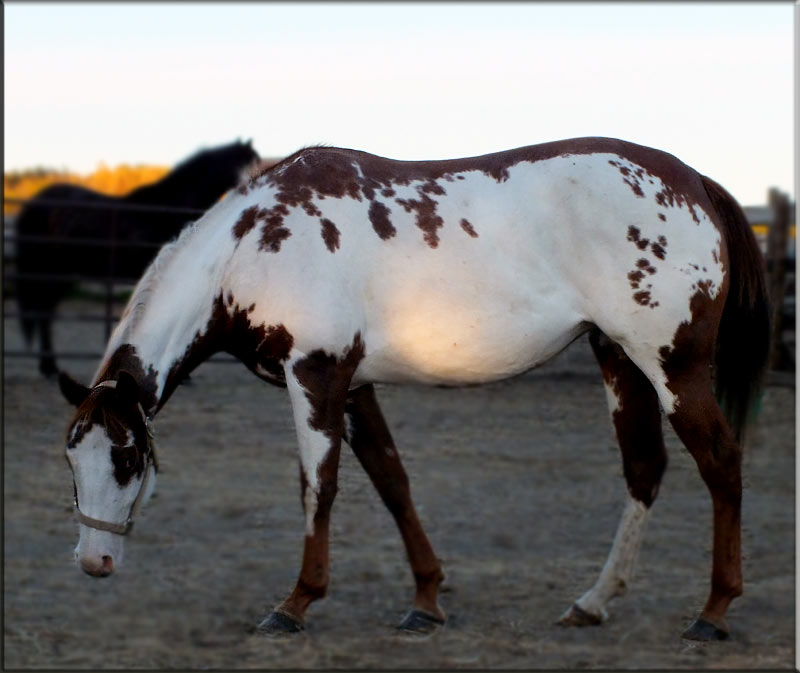 $2900.00 CAD
Negotiable
SALE PENDING

If you would like Marley bred to our APHA stallion
please add $300.00 CAD to these prices
Click Here to view Marley's Pedigree
_________________________________________________________________________________________
Stallions & Colts:
Our Stallion's and Stud Colts Listed For Sale
Additional Training has Now Commenced on our Stallion(s) & *Stud Colts. The pricing on these horses will reflect this additional training.
* -denotes Stud Colts have not yet covered/bred a mare.
__________________________________________________________________________________________________________________
We currently do not have any Stallions available for sale!
Please check the 2014 Foals below for available stud colts!
_________________________________________________________________________________________

2014 Foals:
All 2014 Foals will be halter broke, lead, stand for farrier, tie and load by the time they are weaned and ready to go to their new home. We only require a 25% deposit and a signed sales agreement to hold them until weaned and no board will be charged while they are on their dam's side. All 2014 Foals will also be on a regular deworming and farrier schedule which will be covered by us until weaning. You will have the option to make payments until the foal is weaned and ready to go to its new home, or you can pay the remaining amount due at weaning time, the choice is yours!
*************************************************************************************************

HPH Major Zip
"Major"
Born May 11, 2014
Bay Dun SPB APHA Colt
Should mature around 15.2hh - 15.3hh
PRICE REDUCED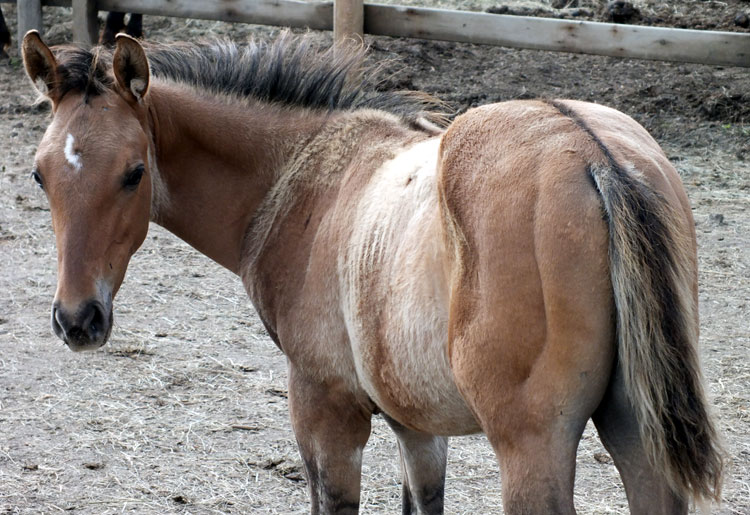 Major is a very fancy colt with a "look at me" attitude. He loves to prance around like a prince and would be a good prospect for both English and Western Riding. He has beautiful conformation, flowing movement, and a super sweet disposition. Major loves to be around and interacting with people. He is very bold and curious and has a wonderful mind on him.
$600.00 CAD
Click Here to view Major's Pedigree
*************************************************************************************************
Metallicana HPH
"Kopper"
Born April 20, 2014
Metallic Buckskin Friesian Sport Horse colt
Should Mature anywhere between 15.3 - 16hh+
Registered with the Friesian Heritage Horse & Sporthorse International registry
This guy is BIG and an absolute sweetheart! He has the nobility and upright presence of the Friesian with the refinement and stamina of the Thoroughbred. He is bold, curious, friendly and LOVES to be groomed. He is straight as an arrow, correct and he will make an amazing performance horse in any discipline including dressage, showjumping, trail riding, eventing, western and/or english pleasure, the possibilities are endless! He will be a gorgeous rich buckskin color with sooty and a metallic sheen that will make him stand out from the crowd. Kopper's dam has the same metallic sheen and we believe this is caused from a "Satin" gene not yet found in equine, but has been located in other species such as cats, rabbits, and ginuea pigs, that causes the coat to appear metallic (like the Akhal Teke horse) due to the base of the hair shaft being translucent therefore reflecting more light.
$2500.00 CAD
Click Here to view Kopper's Pedigree
SALE PENDING
*************************************************************************************************
Magnifiko HPH
"Pepper"
Born May 22, 2014
Black with white spots over hips
Friesian Sport Horse Colt
Should Mature 15.2 - 16hh
Registered with the Friesian Heritage Horse & Sporthorse International registry

Pepper is a gorgeous Friesian Sport Horse colt with a Thoroughbred build and Appaloosa coloring! This guy will be an amazing HUS, Showjumping, Dressage, Eventing and Trail prospect. He is pitch black and the only white he has are the spots over his hips! He has the sweetest face and loves to explore. Even at three days old he was content to wander from his mother quite a distance and stretch his long legs! Pepper will be registered with the FHH's specialty breed Imperial Heritage Horse book.
$2500.00 CAD
Click Here to view Pepper's Pedigree
SALE PENDING

*************************************************************************************************

HPH Jaguars Breeze
"Quest"

Born June 19, 2014
Grullo Tobiano APHA Colt
Homozygous Black & 5 Panel Clear!
Should Mature 15.3 - 16hh+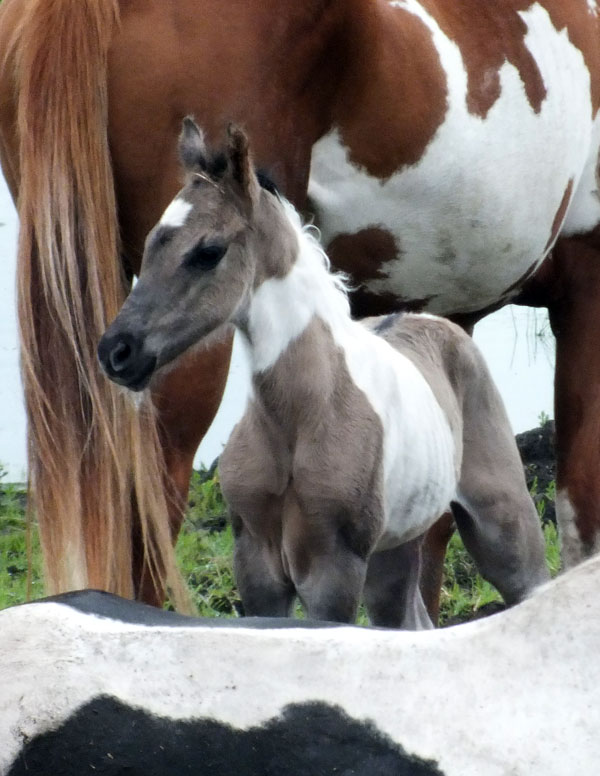 This colt is STUNNING! He is stallion potential and will be an amazing Riding horse and Show Prospect. This colt will be able to do it all, from Trail to Hunter Under Saddle, to Reining, Halter, you name it! This guy is homozygous black and also 5-Panel clear as both dam and sire are tested clear. He has super long legs, a beautiful head and a long neck that ties in nicely with his shoulder and he is perfectly marked! Don't miss out on this colt!

$1500.00 CAD
Click Here to view this colt's Pedigree
SALE PENDING

_________________________________________________________________________________________
*****************************************************************************************************************
Contact Us For A List Of Horses For Sale
*****************************************************************************************************************
_________________________________________________________________________________________